Crawford School - Park Avenue - Crawford, Georgia
Future Home of Arts!Oglethorpe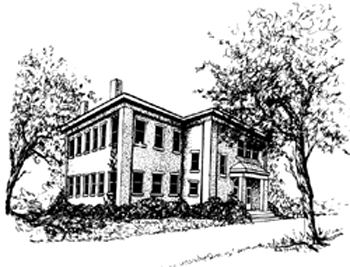 The Crawford School was built by Jack Stokley beginning in 1909. The City of Crawford floated a bond to raise the $4,500 required to build the school. The school functioned as a school from 1911-1955. The Class of 1947 was the last graduating class. The first day of classes at the new school was October 2, 1911.
* Mr. Pat Pace hand cut the granite for the windows and doors.

* Athletic Rivals: Meson Academy (Lexington) and Maxeys School

* Students had to pay $1.00 upon entering for the purpose of paying a janitor and buying fuel. Those outside the school district had to pay $2.00 per month. Students came from as far as 12 miles away.

* CHS became an accredited high school in 1921 allowing graduates to enter college without having to "stand examination"

*There were originally four classrooms and a full auditorium. Outbuildings (now destroyed) were added to house lower grades and bathrooms.

* At graduation the Junior and Senior Class each produced a play. Many of the names of cast members can still be found on the walls back stage.

* The Crawford Women's Club sponsored plays with a cast "composed of local talent of Crawford".

* After closing its doors as a school in 1955, the building was used as a nursing home, sewing plant, insulation plant, preschool and a manufacturing facility for decorative garden edgings.

"In 1939, the State of Georgia ran completely out of money to operate our schools. As I remember, the teachers were paid through February leaving March, April and May up to the parents. I believe the entire school was close during that time with the exception of the senior class who was able to get Mr. Pierce Belcher to continue on by himself until the second week in May. The country was in an economic depression and many people actually suffered." (Peter Wheeler CHS '39 – Commissioner – Dept. of Veterans Service – 1989)